It's 2013, and 13 is my lucky number and I know it's going to be a wonderful, crafty, kind of year.
I'm so happy to share with you today a new craft I learned from my friend Miss Cassandra over at
Creating with Color by Cassandra
. I always heard of paper piecing but had never tried it. Let me tell you, it's all about the scissors. Cutter Bee Scissors! Now hubby can have his mustache trimming scissors back *teehee*
Ok, so normally when you think of Cheers! You think of champagne glasses clinking...but it's been SOOOOO cold, my mind has been on tea and HOT COCOA!
The cocoa mugs are from
MCT
Do The Cocoa Motion stamp set and the backgound paper is from EP Winter Wishes paper pad that came in the huge goodie box I won over at
MCT
.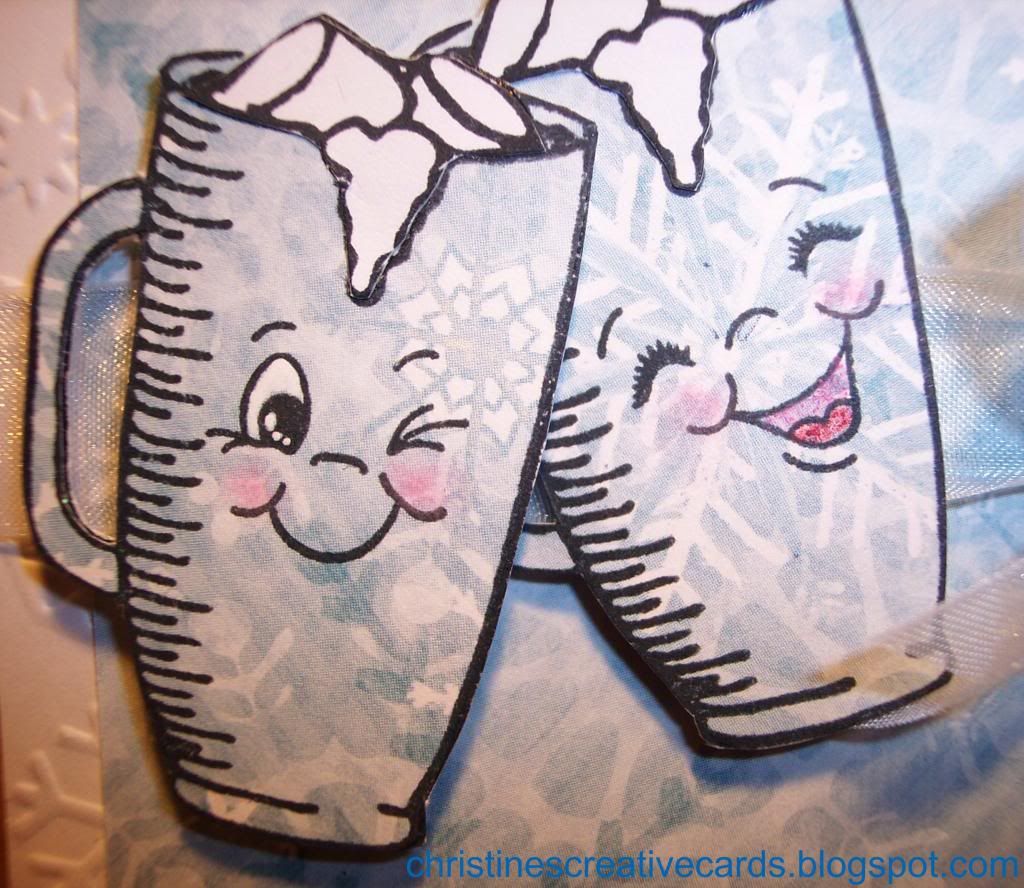 I paper pieced the marshmellows (yummy, my fav part!) in white card stock. Then I stamped
Peachy Keen
Faces on each mug. The face on the left is from Everyday Character Face Assortment, this is my favorite face on that set. And the face on the right is from the Happy Lashes Assortment. Then I pop dotted both mugs. I think for my first paper piecing, it didn't turn out too bad.
The sentiment "CHEERS" is from
Pea
chy Keen's
December 2012 set.
I'm entering this card into the
Peachy Keen Challenge 13-1 ANYTHING GOES
Here's some info if you'd like to enter your project too:
This week's challenge is ANYTHING GOES!!
Just use your PEACHY KEEN STAMPS and link up!
We'll be awarding "TOP PEACH" to the player who uses their Peachy Keen Stamps this week and our two runner ups will receive a spiffy badge to display on their blog!
Guidelines:
Design must be new
Link up by 1/9 - 11:59 pm EST
For this particular challenge, you must use Peachy Keen Stamps to link up. (For other challenges, you don't need our stamps to play along, this only applies to the "Anything Goes" Challenge)
Sorry, any entry that does not meet the guidelines for this challenge (does not use Peachy Keen Stamps) will be automatically removed without notice.
There are still a few more days to enter your PKS project, click

HERE

to enter.
Have a great week, my crafty friends. See you back here soon! --C